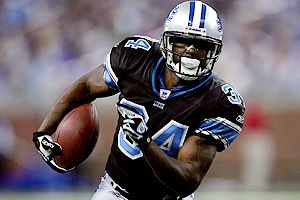 The Bucs are set to get a visit from free agent RB Kevin Jones according to the St.Pete Times. The paper says that Jones is well aware of the backfield situation with the Bucs, as the team has already gotten a deal done with Earnest Graham and are hoping and watching Cadillac Williams to see his status. Beyond that, they have Warrick Dunn, who returns to the team, and Michael Bennett.
The visit to the Bucs will take place next week. Oddly enough, the Buccaneers were not one of the four teams that watched Jones work out last month in Michigan. Those teams included the Steelers, who Jones sat down and talked to on Wednesday. It seems that Jones wants to find a team before camp starts, that way he can get in and be a part of a team when they start camp at the end of the month.
Sign up to receive our Buccaneers Gab newsletter, and keep up to date with all the latest Tampa Bay Buccaneers news.